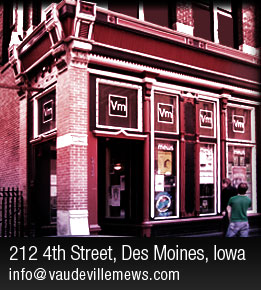 Andrew W.K.
05/23/13
With:
Little Ruckus
PURE GUT

Takin Care of Birthdays!
05/25/13

Mews Memorial Rage & Rot Party!
05/26/13
With:
Tires
Land of Blood and Sunshine
Ramona and the Swimsuits
Arynn
Stewardesses
Quick Piss
MediumPenis

John Fullbright
05/29/13
With:
Ruston Kelly

Night Beds
06/01/13
With:
Jenny O.

Love Songs For Lonely Monsters
06/06/13
With:
New Member Charles
Electric Junction
Dark Horse Patrol

Hey Marseilles
06/14/13
With:
Phox

Vandaveer
06/15/13
With:
Max Jury

Skeletonwitch
06/16/13
With:
DRUIDS
Skin of Earth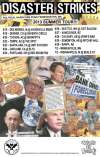 Disaster Strikes
06/18/13
With:
Pyroklast
Panther
Ghostbusters


Pieta Brown
06/22/13
With:
Eric Kennedy

Unknown Mortal Orchestra
06/24/13
With:
Bass Drum of Death

Evangelicals
06/24/13
With:
Companion
Ramona Muse

Garrison Starr
06/28/13
With:
P.J. Pacifico
The Melodic
06/28/13
With:
The Blank Tapes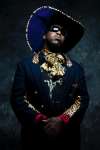 OURS
07/09/13
With:
Luna Arcade
Vaudeville

Vieux Farka Toure
07/10/13

Knockout Kid
Sun, May 19, Doors: 5:00 pm - Show: 5:30 pm - All Ages - $5
Artist Website
pop/punk/rock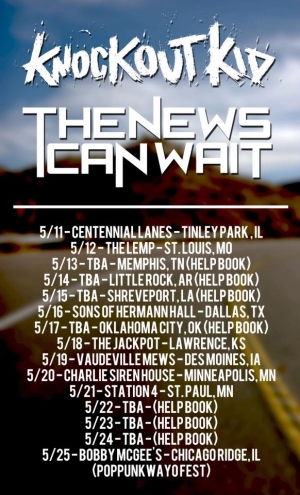 Formed in 2010, Chicago's own KNOCKOUT KID is pop punk with an edge. Call them the genre's answer to "easycore," but instead of generic breakdowns and been-done gang vocals, KNOCKOUT KID relies on metalcore-inspired riffs and choruses catchy enough to keep you up at night. Since their inception three years ago, the band has signed a distribution deal with THC Music / InGrooves Fontana, shared the U.S. Cellular Stage at Milwaukee's Summerfest with Anberlin, and has officially released two EP's. The first, 2011's "Your Name All Over It," was the only release to feature old singer Evan Franklin.
With:
The News Can WaitLake of Fat KidsSuper Powers
---
Starkill
metal/progressive/thrash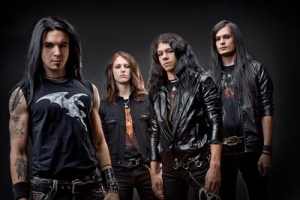 Century Media's latest signing, Chicagoland-based, melodic death metal band STARKILL, will release their debut album, Fires of Life, on April 29th in Europe and April 30th in North America. The album artwork was done by renowned metal artist, Joshua Belanger, in which he properly portrayed the epic musical styling of the band.
With:
6000 Wings & the Bended Bow
---
Real Live Tigers
Wed, May 22, Doors: 4:30 pm - Show: 5:00 pm - All Ages - $5
Artist Website
folk/pop/rock
Andrew W.K.
Thu, May 23, Doors: 6:00 pm - Show: 7:00 pm - All Ages - $20
Artist Website
First Fleet Concerts presents...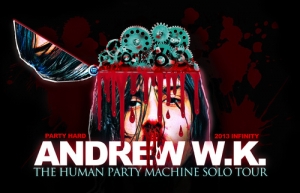 Andrew W.K. is the KING OF PARTYING. Infamous for his bloody nose, famous for his high-life attitude, beloved for his songs like, "PARTY HARD", "WE WANT FUN", and "YOU WILL REMEMBER TONIGHT", Andrew's true will is to use all forms of entertainment to create feelings of pure joy, fun, love, freedom, and possibility. Born in California in 1979, Andrew W.K. is a multi-faceted musician and performer. Starting his musical career at age 4 with classical piano lessons, then exploring experimental and fine art interests, Andrew went on to create his own brand of extremely high-energy rock 'n' roll. His father, James E. Krier, is a Law Professor at the University of Michigan, and Andrew grew up in the open-minded Midwestern city of Ann Arbor. At age 18, after being accepted into The Art Institute of Chicago, Andrew decided instead to move to New York City and pursue art and music on his own.
With:
Little Ruckus
PURE GUT
Buy tickets online!
---
Amass The Grave
Fri, May 24, Doors: 5:00 pm - Show: 5:30 pm - All Ages - $6
Artist Website
death metal/hardcore/metal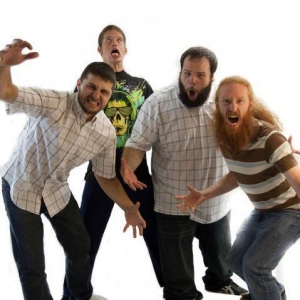 Amass The Grave is a Des moines based band dedicated to creating a vile mixture of new/old school Death metal stylings featuring elements of Thrash and Grind complimented by disgusting Hardcore chug.LOOK FOR AMASS THE GRAVES EP RELEASE A MASSACRED WORLD WINTER 2011. Amass The Grave is a Death Metal band from Des Moines, Iowa that was formed in 2005 by guitarist John Ira, and drummer James Laxton. It was started with one thing in mind, to have fun and fulfill their passion. For the first year John Ira and James Laxton wanted to get their own unique style of death metal, so they quit listening to music all together. After getting the sound they liked, they started practicing everyday to perfect it. In 2006 they began the journey of finding a second guitarist and bassist. In late 2006 Kelly Assleson started playing bass for Amass The Grave.
With:
BalletSenseless BeautyThe Opportunist
---
Daft Punk Listening & Film Viewing Party at the PBR Bar
Limbs
Fri, May 24, Doors: 9:30 pm - Show: 10:00 pm - 21+ - $5
Artist Website
jam/hip hop/rock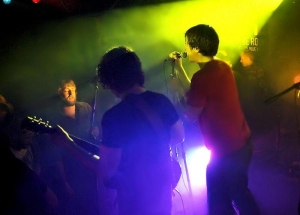 Limbs came together in the Summer of 2011, the product of impromptu jams between drummer Nick Jenkins, guitarist/bassists Travis Patten and Alex Fischels, and MC Ty James. The sound that emerged was a danceable blend of psychedelic rock, funk, hip-hop and EDM. Songs were born, and the crew set to work on the Weekend EP while playing shows from Chicago to the Quad Cities. Limbs is currently in the studio working on their first LP, to be released in early May, and will be playing downstairs at the River Music Experience in Davenport on April 5th!
With:
Mighty Shady
---
Oktane Gang
Sat, May 25, Doors: 5:30 pm - Show: 6:30 pm - All Ages - $5
rap/hip hop/soul
ALL BUGS at the PBR Bar
Sat, May 25, Doors: 9:00 pm - Show: 9:00 pm - 21+ - $0
PBR presents...
Takin Care of Birthdays!
&copy 2013 Vaudeville Mews