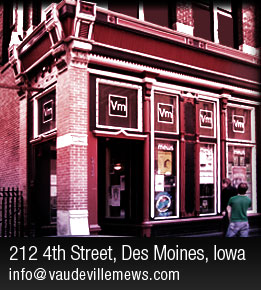 The Huntress and Holder of Hands
09/26/17
With:
Liz Eisenberg

Palehound
10/02/17
With:
Thunder Dreamer
Good Morning Midnight

Battalion of Saints
10/07/17
With:
The Cryptics
Traffic Death
No Skin
Broken Ones

mewithoutYou
10/08/17
With:
Pianos Become The Teeth

Dalek
10/18/17
With:
Street Sects
Underwater Escape From the Black Hole

Thee Commons
10/19/17
With:
The Vahnevants

Bob Log III
10/22/17
With:
CR Dicks
Goldblums
Greg Wheeler and The Polygamist Mall Cops
Eric Kennedy

David Ramirez
10/23/17
With:
Molly Parden

Cults
10/26/17
With:
Cullen Omori
Hideout

Selector Dub Narcotic
10/28/17
With:
Ramona and the Sometimes
Karen Meat

Har Mar Superstar
10/28/17
With:
High Up

Buzzov-en
11/02/17
With:
Earthride



Jessica Lea Mayfield
11/15/17
With:
Blank Range

Carti Bankx
11/22/17
With:
Ted Park
Wave Chapelle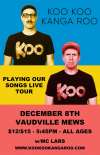 Koo Koo Kanga Roo
12/08/17
With:
MC Lars

Banned Together: Music for All Ages
Fri, September 29, Doors: 5:00 pm - Show: 5:45 pm - All Ages - $5
Artist Website
Des Moines Music Coalition presents...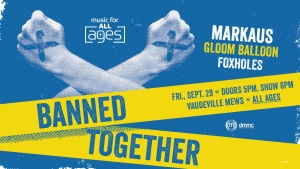 Des Moines city code currently prevents fans under 21 from entering live music venues after 9 p.m. which has proven hugely unfair and unrealistic for smaller venues such as Lefty's Live Music, Gas Lamp, Noce, and Vaudeville Mews. It is unfair for younger audiences, artists, and the venues and must change ASAP! Join I Support Music for All Ages in DSM in "Banned Together: Support Music For All Ages in DSM", raising money, raising awareness, and rallying our grassroots network for the Music For All Ages campaign! The Des Moines Music Coalition launched the campaign in February this year. Since then, we've met with several city officials, gained hundreds of supporters, and raised awareness about the issue. As we gear up to pack city council and flood city council representatives with calls and emails, we need YOUR help to raise funds for this process or we simply can't continue! ALL AGES, $5-20 suggested door donation. Our event goal is $1,200!
With:
Markaus
Foxholes
Gloom Balloon
---
&copy 2017 Vaudeville Mews