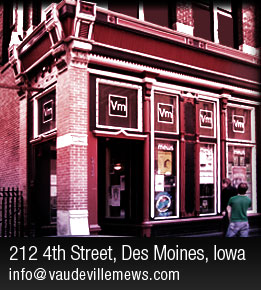 The Huntress and Holder of Hands
09/26/17
With:
Liz Eisenberg

Ash Wednesday
09/29/17
With:
B. Well
The Feel Right
Ontario Phoenix

Palehound
10/02/17
With:
Thunder Dreamer
Good Morning Midnight

Battalion of Saints
10/07/17
With:
The Cryptics
Traffic Death
No Skin
Broken Ones

mewithoutYou
10/08/17
With:
Pianos Become The Teeth

Dalek
10/18/17
With:
Street Sects
Underwater Escape From the Black Hole

Thee Commons
10/19/17
With:
The Vahnevants

Bob Log III
10/22/17
With:
CR Dicks
Goldblums
Greg Wheeler and The Polygamist Mall Cops
Eric Kennedy

David Ramirez
10/23/17
With:
Molly Parden

Cults
10/26/17
With:
Cullen Omori
Hideout

Selector Dub Narcotic
10/28/17
With:
Ramona and the Sometimes
Karen Meat

Har Mar Superstar
10/28/17
With:
High Up

Buzzov-en
11/02/17
With:
Earthride



Jessica Lea Mayfield
11/15/17
With:
Blank Range

Carti Bankx
11/22/17
With:
Ted Park
Wave Chapelle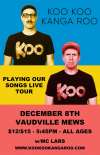 Koo Koo Kanga Roo
12/08/17
With:
MC Lars

The Lone Canary
Tue, August 15, Doors: 8:30 pm - Show: 9:00 pm - 21+ - $5
Artist Website
The Vaudeville Mews presents...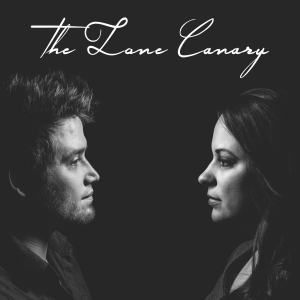 The Lone Canary is a Folk/Americana duo comprised of Rockford, IL musicians Jesse Fox and Heather Camacho. They have an acoustic, rootsy sound echoing the styles of legendary folk artists. Heather and Jesse grew up as childhood friends, living just a couple blocks from each other. They attended the same high school and church, where they played music together into their young adult years. Jesse, a solo artist since 2008, and Heather, who occasionally played and sang with him, officially joined forces in June of 2014 to form The Lone Canary. In the latter half of 2014, they embarked to create their first album together. After 7 months of the recording/producing process, they independently released their debut album in June of 2015. This duo's perfectly matched voices showcase their haunting vocals, singing songs of love and loss, resulting in a well-honed Folk/Americana masterpiece that will woo your music loving soul.
With:
Courtney Krause
Wren Fione
---
&copy 2017 Vaudeville Mews