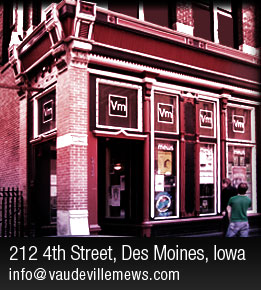 Unwed Sailor
04/27/18
With:
Early Day Miners
The Autumn Project
Canby (solo)

McKinley Dixon
04/29/18
With:
Johnny Marz

Kitten Forever
05/04/18
With:
Royal Brat
Goldblums
Quick Piss

Once & Future Band
05/04/18
With:
Sires
The Riff Raff


P.O.S
05/10/18
With:
DJ Rowsheen
Serengeti


Smoke DZA
05/26/18
With:
Bodega Bamz
Jayy Grams


Honeycreeper (ep release party)
06/02/18
With:
Lipstick Homicide
Ramona and the Sometimes
Greg Wheeler and The Polygamist Mall Cops


Snail Mail
06/18/18
With:
Bonny Doon
Anna Burch

The 4onthefloor
06/23/18
With:
Danny Wolf
The Haunted Hallows

David Ramirez : The Bootleg Tour (live album recording)
06/24/18
With:
Matthew Wright

The Posies
06/25/18
With:
Terra Lightfoot

Electric Six
07/11/18
With:
Mark Mallman
Easy Fruit

Slim Cessna's Auto Club
08/27/18
With:
Matthew James & the Rust Belt Union

Thee Commons
Thu, October 19, Doors: 6:00 pm - Show: 6:30 pm - All Ages - $7
Artist Website
The Vaudeville Mews presents...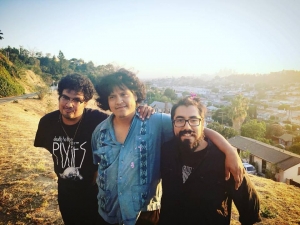 Since banding together in 2012, psychedelic cumbia-punk trio Thee Commons have made waves in and around their hometown of East LA. Featuring los hermanos Pacheco and one of several lively session bassists, these romp 'n' rollers have managed not only to marry two unlikely genres -- world's apart -- in perfect pastiche harmony but have also compiled a prolific catalogue of music to which they toured through the United States in an extensive 32 days, 35 shows tour in the Summer of 2016. Named #15 on LA Weekly's "LA's 20 Best Live Shows of 2016" outranking the likes of ELO, Bruce Springsteen and The Who, Thee Commons have created a buzz with their vivacious performances. Chris Ziegler founder of LA Record wrote about Thee Commons, "Live, they're fearless, confident and ready to go off-script at a moment's inspiration. It's wild stuff, just as it absolutely should be." To which Chris Kissel of LA Weekly further comments, "If Thee Commons aren't the best live band in Los Angeles, they're damn near the top."
With:
The Vahnevants
Buy tickets online!
---
&copy 2018 Vaudeville Mews