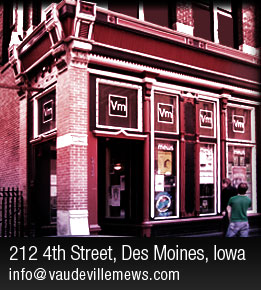 Ramona and the Sometimes (album release party)
07/22/17
With:
Tires
Hot Tang
Glitter Density

Taiwan Housing Project
07/23/17
With:
Quick Piss


The Frights
08/02/17
With:
King Shelter
On Drugs
Land of Blood and Sunshine

Psychic Temple
08/09/17
With:
Karen Meat



Ghost Bath
08/18/17
With:
Idolist


Emma Ruth Rundle
08/30/17
With:
Jaye Jayle

Gloom Balloon (record release party)
09/01/17
With:
Glitter Density
Derek Muse Lambert

Gloom Balloon (record release party)
09/01/17
With:
Foxholes
Dustin Smith

Street Heat
09/03/17
With:
Plack Blague
Gosh
Younger
City Counselor
Hot Tang
Conny Franko
Odd Pets
Pizza Babe

Lich King
09/11/17
With:
Against The Grain
Hidden Intent




Black Joe Lewis & The Honeybears
09/22/17


Thee Commons
10/19/17
With:
The Vahnevants

Selector Dub Narcotic
10/28/17
With:
Ramona and the Sometimes
Karen Meat

Fury Things
Sat, February 13, Doors: 8:30 pm - Show: 9:00 pm - 21+ - $5
Artist Website
The Vaudeville Mews presents...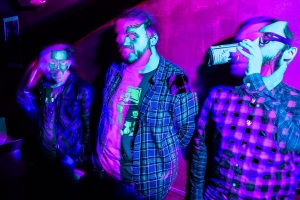 Fury Things are a trio from Minneapolis, Minnesota, made up of guitarist/vocalist Kyle Werstein, bassist Devon Bryant, and drummer Andrew Carson. Werstein writes compelling lyrics and shreds fuzzy guitar solos while sharing the melody with Bryants bass. Carson slams on cymbals higher than his head and has broken too many drumsticks to count. Together theyre making fast, loud rock music reminiscent of Superchunk, Dinosaur Jr. and fellow-Minneapolitans Hüsker Dü. Since forming in August of 2012, they released two EPs to local and national critical praise, recorded an upcoming 7" single, toured Canada and the United States, and opened for noteworthy bands like Yuck and The Men. Their release EP2 landed them on numerous year-end lists, including City Pages prestigious Picked to Click Poll. Their relentless, energetic live reputation caught the attention of famous nightclub First Avenue, who named them one of the Best New Bands of 2013.
With:
The Wheelers
Satellite State
---
&copy 2017 Vaudeville Mews