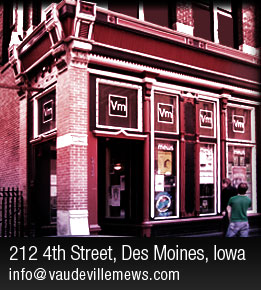 The Huntress and Holder of Hands
09/26/17
With:
Liz Eisenberg

Palehound
10/02/17
With:
Thunder Dreamer
Good Morning Midnight

Battalion of Saints
10/07/17
With:
The Cryptics
Traffic Death
No Skin
Broken Ones

mewithoutYou
10/08/17
With:
Pianos Become The Teeth

Dalek
10/18/17
With:
Street Sects
Underwater Escape From the Black Hole

Thee Commons
10/19/17
With:
The Vahnevants

Bob Log III
10/22/17
With:
CR Dicks
Goldblums
Greg Wheeler and The Polygamist Mall Cops
Eric Kennedy

David Ramirez
10/23/17
With:
Molly Parden

Cults
10/26/17
With:
Cullen Omori
Hideout

Selector Dub Narcotic
10/28/17
With:
Ramona and the Sometimes
Karen Meat

Har Mar Superstar
10/28/17
With:
High Up

Buzzov-en
11/02/17
With:
Earthride



Jessica Lea Mayfield
11/15/17
With:
Blank Range

Carti Bankx
11/22/17
With:
Ted Park
Wave Chapelle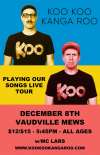 Koo Koo Kanga Roo
12/08/17
With:
MC Lars

Landing
The Vaudeville Mews presents...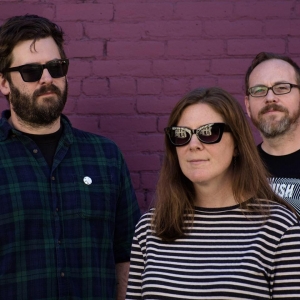 Landing is an American indie rock outfit from Connecticut, United States. Terms used to describe the music created by Aaron Snow and Adrienne Snow include ambient, shoegaze, slowcore, and space rock. Past members have included Dick Baldwin (guitar, bass) and Peter Baumann (not the same musician who was once a member of Tangerine Dream). The most current line up features Daron Gardner (bass) and John Miller (drums, guitar). Originally named May Landing as a duo, the group changed the name to Landing in 1998 with the additions of Dick Baldwin (guitar, bass), Daron Gardner (bass, drums). Landing returned June 2012 with the release of their eighth LP and first LP on Geographic North, entitled Landing. The nine songs were written and recorded over the six-year hiatus following Gravitational IV. "Heart Finds the Beat" was the first single released off the album.
With:
Byrn D Paul
Underwater Escape From The Black Hole
---
&copy 2017 Vaudeville Mews