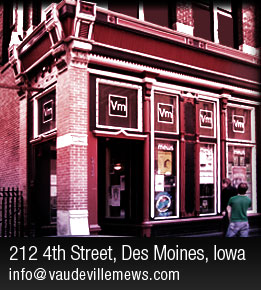 Carti Bankx
11/22/17
With:
Ted Park
Wave Chapelle

Crowbar
11/26/17
With:
Tombs
Incite
Tricounty Terror
Absolute Power
Grossfacekilla

Hockey Dad
11/27/17
With:
Contakta
The Host Country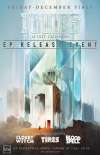 Druids EP Release Party
12/01/17
With:
Tires
Closet Witch
Blood Spell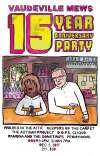 Vm 15 year Anniversary Party!
12/02/17
With:
Keepers of the Carpet
Wolves in the Attic
The Autumn Project
D.O.P.E. Clique
Ramona and the Sometimes
Pennyhawk

Juanita Stein
12/04/17
With:
Squirrel Flower

Healing Together: A Fundraiser
12/06/17
With:
Glitter Density
Annalibera (solo)
Collidescope
Maddie Johnson (poet)

Exhumed
12/07/17
With:
Arkaik
Traffic Death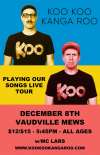 Koo Koo Kanga Roo
12/08/17
With:
MC Lars

Brilliant Crafts and Wares Fair 5
12/10/17

Hugh Masterson
12/11/17
With:
Dustin Smith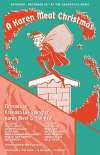 A Karen Meat Christmas
12/16/17
With:
Brendan Lee Spengler
Extravision

Winterland's New Years Eve Celebration
12/31/17
With:
Pale Blue Erf

Mammoth Grinder
02/22/18
With:
Idolist
Blood Spell

Landing
The Vaudeville Mews presents...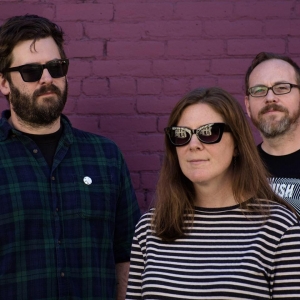 Landing is an American indie rock outfit from Connecticut, United States. Terms used to describe the music created by Aaron Snow and Adrienne Snow include ambient, shoegaze, slowcore, and space rock. Past members have included Dick Baldwin (guitar, bass) and Peter Baumann (not the same musician who was once a member of Tangerine Dream). The most current line up features Daron Gardner (bass) and John Miller (drums, guitar). Originally named May Landing as a duo, the group changed the name to Landing in 1998 with the additions of Dick Baldwin (guitar, bass), Daron Gardner (bass, drums). Landing returned June 2012 with the release of their eighth LP and first LP on Geographic North, entitled Landing. The nine songs were written and recorded over the six-year hiatus following Gravitational IV. "Heart Finds the Beat" was the first single released off the album.
With:
Byrn D Paul
Underwater Escape From The Black Hole
---
&copy 2017 Vaudeville Mews