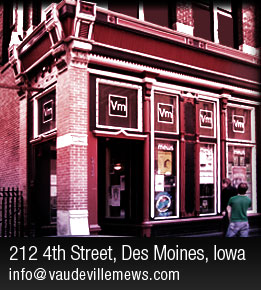 Ramona and the Sometimes (album release party)
07/22/17
With:
Tires
Hot Tang
Glitter Density

Taiwan Housing Project
07/23/17
With:
Quick Piss


The Frights
08/02/17
With:
King Shelter
On Drugs
Land of Blood and Sunshine

Psychic Temple
08/09/17
With:
Karen Meat



Ghost Bath
08/18/17
With:
Idolist


Emma Ruth Rundle
08/30/17
With:
Jaye Jayle

Gloom Balloon (record release party)
09/01/17
With:
Glitter Density
Derek Muse Lambert

Gloom Balloon (record release party)
09/01/17
With:
Foxholes
Dustin Smith

Street Heat
09/03/17
With:
Plack Blague
Gosh
Younger
City Counselor
Hot Tang
Conny Franko
Odd Pets
Pizza Babe

Lich King
09/11/17
With:
Against The Grain
Hidden Intent




Black Joe Lewis & The Honeybears
09/22/17


Thee Commons
10/19/17
With:
The Vahnevants

Selector Dub Narcotic
10/28/17
With:
Ramona and the Sometimes
Karen Meat

Moodie Black
Sun, June 11, Doors: 9:30 pm - Show: 10:00 pm - 21+ - $5
Artist Website
5cm Recordings presents...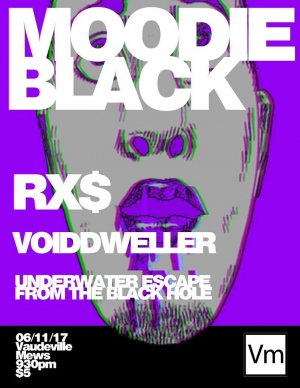 Shaped and formed in the deserts of Arizona, Moodie Black pulled themselves from the dust, undaunted by criticism for their abrasive sound and controversial stage shows since 2004. Regarded as a legitimate pioneer of mood in a very small class of noise rap (Death Grips, BLACKIE, Dalek), the band's unorthodox approach to production, mixing, and live performance has begun to be recognized by the human masses. Outfitted with disembodied baby heads tethered to gold chains, Moodie Black is visceral, melodic, and of course devastatingly moody. The duo- fronted by menacing figure "K." (Chris Martinez) and backed by guitarist Sean Lindahl- have audiences anticipating Moodie Black's upcoming album, N A U S E A , the follow up to the critically acclaimed Sana Sana, and the first major release for the band. Moodie Black have much to be thankful for in 2013 with two back-to-back national tours from January to April, a debut record for Fake Four, and a European tour in summer of 2013.
With:
Rx $
VoidDweller
Underwater Escape From The Black Hole
---
&copy 2017 Vaudeville Mews