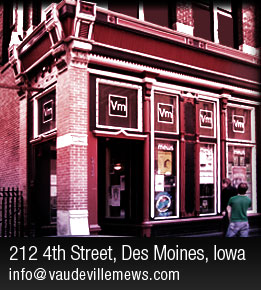 Carti Bankx
11/22/17
With:
Ted Park
Wave Chapelle

Crowbar
11/26/17
With:
Tombs
Incite
Tricounty Terror
Absolute Power
Grossfacekilla

Hockey Dad
11/27/17
With:
Contakta
The Host Country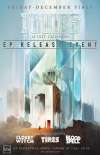 Druids EP Release Party
12/01/17
With:
Tires
Closet Witch
Blood Spell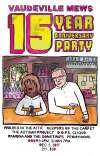 Vm 15 year Anniversary Party!
12/02/17
With:
Keepers of the Carpet
Wolves in the Attic
The Autumn Project
D.O.P.E. Clique
Ramona and the Sometimes
Pennyhawk

Juanita Stein
12/04/17
With:
Squirrel Flower

Healing Together: A Fundraiser
12/06/17
With:
Glitter Density
Annalibera (solo)
Collidescope
Maddie Johnson (poet)

Exhumed
12/07/17
With:
Arkaik
Traffic Death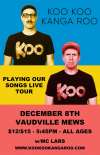 Koo Koo Kanga Roo
12/08/17
With:
MC Lars

Brilliant Crafts and Wares Fair 5
12/10/17

Hugh Masterson
12/11/17
With:
Dustin Smith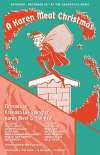 A Karen Meat Christmas
12/16/17
With:
Brendan Lee Spengler
Extravision

Winterland's New Years Eve Celebration
12/31/17
With:
Pale Blue Erf

Mammoth Grinder
02/22/18
With:
Idolist
Blood Spell

Moodie Black
Sun, June 11, Doors: 9:30 pm - Show: 10:00 pm - 21+ - $5
Artist Website
5cm Recordings presents...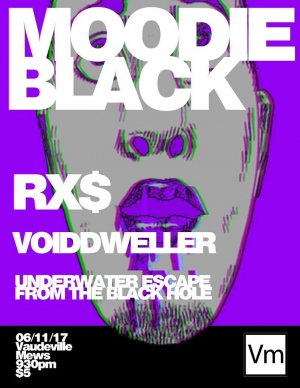 Shaped and formed in the deserts of Arizona, Moodie Black pulled themselves from the dust, undaunted by criticism for their abrasive sound and controversial stage shows since 2004. Regarded as a legitimate pioneer of mood in a very small class of noise rap (Death Grips, BLACKIE, Dalek), the band's unorthodox approach to production, mixing, and live performance has begun to be recognized by the human masses. Outfitted with disembodied baby heads tethered to gold chains, Moodie Black is visceral, melodic, and of course devastatingly moody. The duo- fronted by menacing figure "K." (Chris Martinez) and backed by guitarist Sean Lindahl- have audiences anticipating Moodie Black's upcoming album, N A U S E A , the follow up to the critically acclaimed Sana Sana, and the first major release for the band. Moodie Black have much to be thankful for in 2013 with two back-to-back national tours from January to April, a debut record for Fake Four, and a European tour in summer of 2013.
With:
Rx $
VoidDweller
Underwater Escape From The Black Hole
---
&copy 2017 Vaudeville Mews