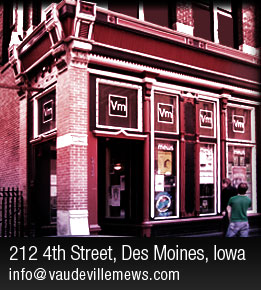 The Huntress and Holder of Hands
09/26/17
With:
Liz Eisenberg

Palehound
10/02/17
With:
Thunder Dreamer
Good Morning Midnight

Battalion of Saints
10/07/17
With:
The Cryptics
Traffic Death
No Skin
Broken Ones

mewithoutYou
10/08/17
With:
Pianos Become The Teeth

Dalek
10/18/17
With:
Street Sects
Underwater Escape From the Black Hole

Thee Commons
10/19/17
With:
The Vahnevants

Bob Log III
10/22/17
With:
CR Dicks
Goldblums
Greg Wheeler and The Polygamist Mall Cops
Eric Kennedy

David Ramirez
10/23/17
With:
Molly Parden

Cults
10/26/17
With:
Cullen Omori
Hideout

Selector Dub Narcotic
10/28/17
With:
Ramona and the Sometimes
Karen Meat

Har Mar Superstar
10/28/17
With:
High Up

Buzzov-en
11/02/17
With:
Earthride



Jessica Lea Mayfield
11/15/17
With:
Blank Range

Carti Bankx
11/22/17
With:
Ted Park
Wave Chapelle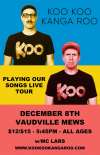 Koo Koo Kanga Roo
12/08/17
With:
MC Lars

Moodie Black
Sun, June 11, Doors: 9:30 pm - Show: 10:00 pm - 21+ - $5
Artist Website
5cm Recordings presents...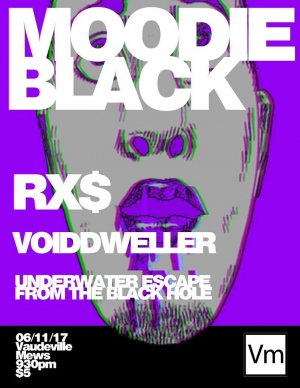 Shaped and formed in the deserts of Arizona, Moodie Black pulled themselves from the dust, undaunted by criticism for their abrasive sound and controversial stage shows since 2004. Regarded as a legitimate pioneer of mood in a very small class of noise rap (Death Grips, BLACKIE, Dalek), the band's unorthodox approach to production, mixing, and live performance has begun to be recognized by the human masses. Outfitted with disembodied baby heads tethered to gold chains, Moodie Black is visceral, melodic, and of course devastatingly moody. The duo- fronted by menacing figure "K." (Chris Martinez) and backed by guitarist Sean Lindahl- have audiences anticipating Moodie Black's upcoming album, N A U S E A , the follow up to the critically acclaimed Sana Sana, and the first major release for the band. Moodie Black have much to be thankful for in 2013 with two back-to-back national tours from January to April, a debut record for Fake Four, and a European tour in summer of 2013.
With:
Rx $
VoidDweller
Underwater Escape From The Black Hole
---
&copy 2017 Vaudeville Mews